Delivering critical energy sources to fuel the lives of American families and businesses
Harvest Midstream is a leading, privately held midstream services provider. We are a business grounded in our core values and dedicated to always doing the right thing – for our customers, our team and the communities where we live and work.
Our entrepreneurial and diverse team offers a unique point of view of the full energy landscape to better meet the needs of our customers. At Harvest, we trust our team members to use their knowledge, make decisions and take real ownership for the overall success of the business.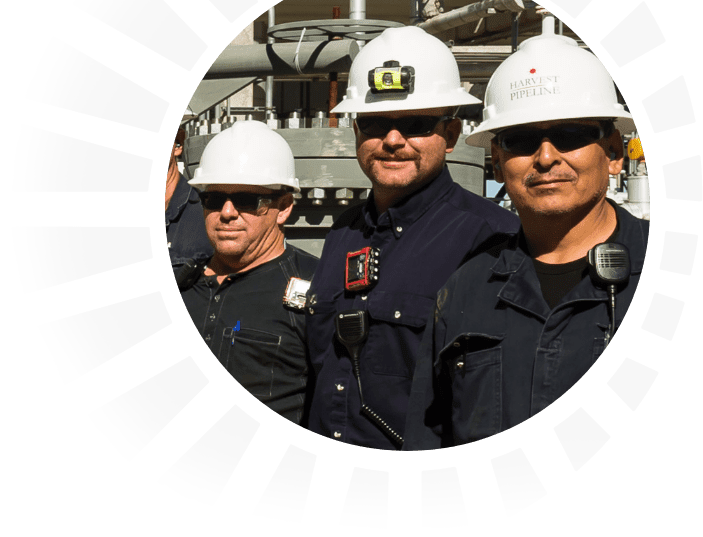 49

%

Lower Total Recordable Incident Rate (TRIR) than industry average
We have over 6,000 miles of pipeline across seven different states and provide our customers with a variety of midstream services for oil and natural gas.

Operating safely and responsibly is our top priority. We have robust programs in place to proactively identify and address potential risks to ensure the safety of our operations.

We constantly work to ensure that we are acting as good stewards of the land. We partner closely with local, state and federal organizations to enhance public safety, improve preparedness and protect the environment.

As a company whose operations weave through communities across the country, we are dedicated to making a positive impact on the places where we work and call home.
Harvest Midstream Signs PSA to Acquire Arrowhead ST Holdings, LLC
Iditarod welcomes Hilcorp Alaska and Harvest Midstream as new Principal Partners
Announcement: Moody's says Harvest Midstream's proposed Add-on notes do not change ratings
Since our founding in 2002, Harvest has grown to become one of the leading midstream companies in the United States. We have expanded into seven states and provide a wide variety of services for oil and natural gas.
At Harvest, we provide our team members with a culture unlike any other, a dynamic work environment, training and professional development, and the opportunity to make a difference at our company and in the community.
Emergency Contact Information
For pipeline emergencies and 24-hour emergency services support, please call
713-289-2921.